Play Music and Podcasts from Anghami on Alexa!
Anghami skill now offers a new interactive way to stream your favorite music and podcasts over Alexa devices.
Get started
Anghami Skill will be enabled by default. If not, you can enable it manually.

Link your Anghami account.

Start playing music by saying: "Alexa, Play Amr Diab's songs" or "Alexa, Play Top songs" or resume your podcasts by saying "Alexa, Resume my podcast".
Link Alexa to your Anghami Account
You can now play songs from your library, including your own likes, downloads, and playlists created on Alexa
Follow the below steps:
Log in to your Amazon account via the Alexa app and go to "Skills"

Select the "Anghami Skill"

Go to Settings and click on "Link Account"

Log in with your Anghami Account
Within a couple of minutes, you'll be able to stream all the Songs and Podcasts from your library, as well as different genres and Anghami Playlists, for example: "Alexa Play Happy music"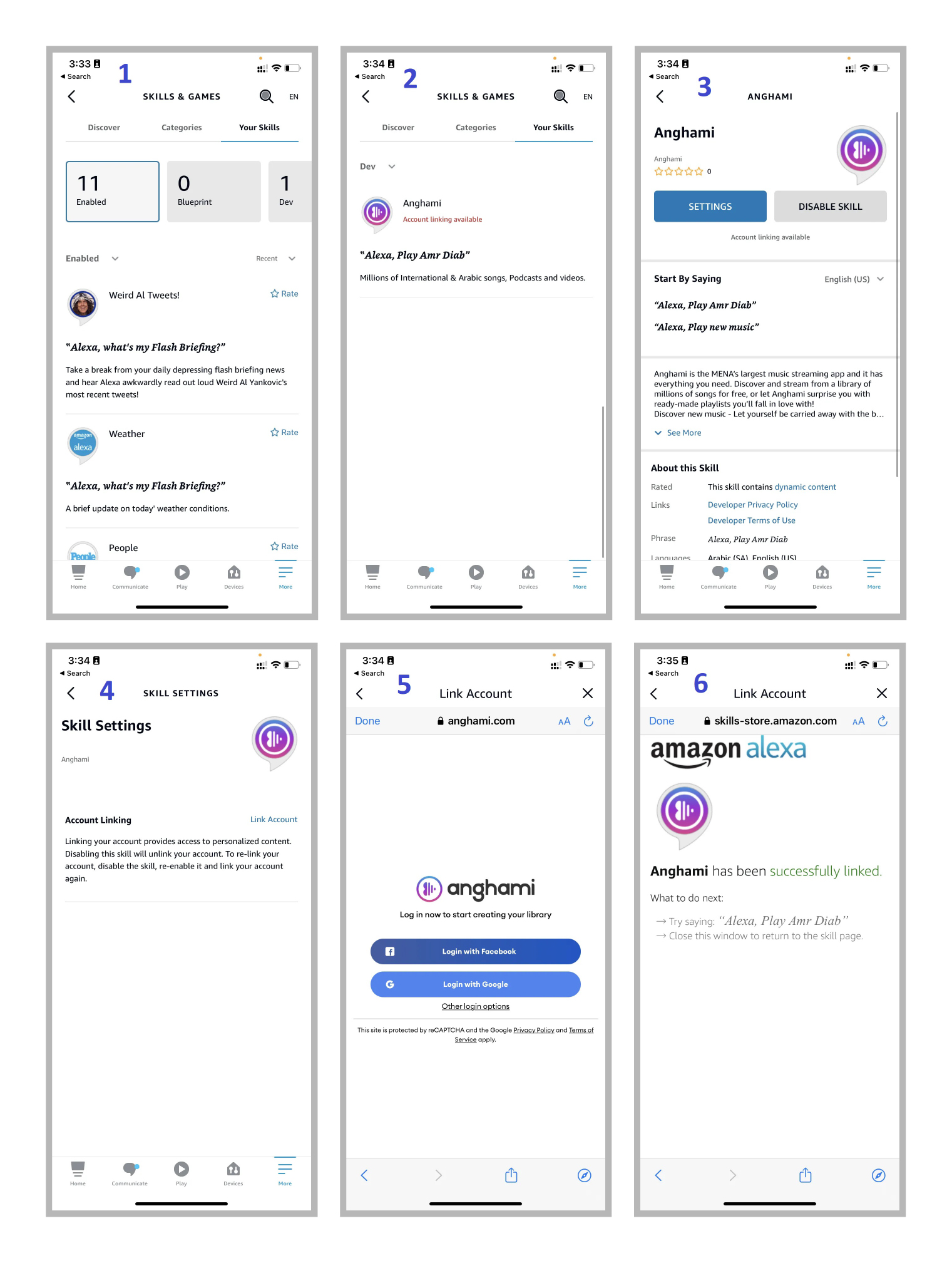 What you can do on your Alexa device?
You can play music by using one of the below commands:
- Alexa, play *genre* music ex: Alexa, play pop music
- Alexa, play new music
- Alexa, play *playlist name* playlist ex: Alexa play calm piano playlist
- Alexa, play *song name* Alexa, play *artist*
- Alexa, play *podcast name* podcast
You can enjoy Anghami Skill on Alexa whether you're a Free or Anghami Plus user, however, if you wish to have an ad-free experience without a single restriction, you can subscribe anytime to Anghami Plus.